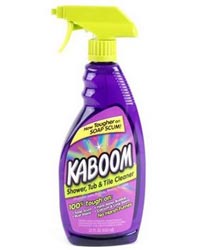 Jameel's sister and her family are coming to visit in a few weeks so we're in high gear trying to get some projects completed around the house. I'll be posting some pictures of some of these soon, but today I want to share a cleaning discovery with you. I'm actually hesitant to blog about this because if I show you the before and after pictures you will see how filthy my house really was! This stuff is so great, though, I'm going to swallow my pride and show you anyway.
What I'm talking about is a product called "Kaboom." A few weeks ago, a friend told me about it and said that it was supposed to be good for cleaning tile grout (
Thank you, Christine!
). Well, I have to say that is an understatement! Check out the before and after pictures below. This stuff is GREAT! You just spray it on, wait 3 minutes, scrub off the grime (I used a small brush like the ones you use on dishes), and wipe it clean with a wet rag. I did all of this cleaning in just a few hours over the last 2 days. Jameel is going to re-seal the grout so hopefully it won't get that bad again. I feel like I have a new kitchen and entryway! And in case you're wondering, none of these photos have been touched up -- I promise!
The kitchen before:
The kitchen after (Yes, that's the color my grout is SUPPOSED to be!):
The entryway before:
The entryway after:
To fully appreciate how bad the entryway was, here is a picture of one corner before:
And the same corner after:
If you have any tile or grout that you need to clean, I highly recommend this product. I even have some left over you can borrow. :)